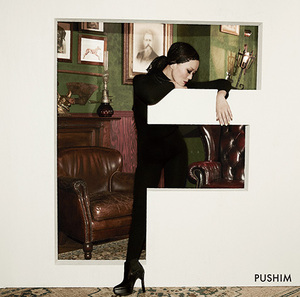 2016.02.18
昨年は新レーベルのGroovillageを立ち上げて、そこからフィーチャリング・ベストを送り出し、ツアーで全国を回ったPUSHIM。約3年ぶり、9枚目となるオリジナル・アルバムでは、Home GrownのTancoやNodatin、SHIMI(BUZZER BEATS)らに加え、タワレコ限定シングルで共演した韻シストBANDや、MUROを制作に迎えた。レゲエに捕らわれぬ楽曲も数多く歌ってきた道のりの延長として、ここでも何にも染まらぬ歌声を聴かせてくれる。韻シストのShyoudogのコクのある歌声が彼女の歌と合わさった"MATTAKU"は、滋味溢れるバンド演奏と共に心に沁みる。ピアノ一本のバックに思う存分その歌唱を満たす"Keep Peace Alive"は、きな臭い世に切々と放つ、祈りにも似た熱き曲だ。


[English Translation]
Last year saw reggae singer PUSHIM launching her own Groovillage label, releasing a compilation of her best collaborative works from it, and touring around Japan. She kicks off 2016 with her 9th album, the first original full-length release in three years, featuring SHIMI from BUZZER BEATS production trio, bassist Tanco and multi-instrumentalist Nodatin from reggae band Home Grown, as well as Muro the king of diggin' and Insist Band formed by the beatmaking members of the hip hop band Insist, who collaborated with her on a Tower Records-exclusive single last year. Not confined to reggae, PUSHIM continues to demonstrate her singing experience with her free-from-any-style vocal here. Backed by Insist Band's flavoursome instrumentations, "MATTAKU (meaning Utterly)" pairs her with the rich voice of Insist's Shyoudog, their unifying harmony tugging at the heartstrings. Accompanied by just the piano, "Keep Peace Alive" fully complements her vocal presence. The song is like an emotional prayer that's released into this shady world.