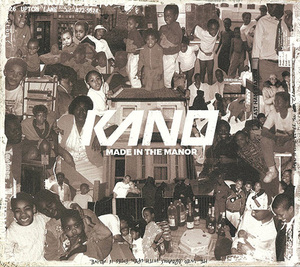 2016.06.15
キャリア15年ながらもまだ30歳という若きヴェテラン。ここ数年はチップやベンガとの共演が目立っていたが、久々にメジャー経由で発表したこのオリジナル5作目はすでに過去最高のチャート成績を記録してヒット中だ。ロンドンの過去と現在を描いた今回もブリット・ホップの誇りを掲げ、テンパ・Tの"Next Hype"を引用したラスティ製のハードな冒頭曲"Hail"からUSアクトの不敬について一閃。ボーイズ・ノイズらとの合体に変化を求めた前作から一転して、フレイザーT・スミスに安定の舵取りを委ねつつ、新進のブルー・メイや馴染みのマイキーJら地元勢をメインに起用。ワイリーとギグズを交えたスウィフタ・ビーター製の"3 Wheel-Ups"やメレーによるロウな"New Banger"などのグライムは最高だし、ストリーツを思わせるドラマティック路線や、仲良しなデーモン・アルバーンとの5~6回目(たぶん)のコラボもいい。JMEとのボートラに至るまで、英国のトップMCとしての気合いと幅を見せたアツい一作。


[English Translation]
Despite his long professional career of 15 years, KANO is still only 30 years old. While the young veteran has been seen enjoying collaborations with Chip or Benga in recent years, this 5th original album released from a major label for the first time in many years has already been a hit, becoming the highest-charting album in his career. Maintaining the pride of Brit Hop, it portrays the past and the present of London, acutely pointing to the disrespect shown by the US acts in the hard, opening track "Hail" produced by Rustie that adopts Tempa T's "Next Hype." In complete contrast to his previous release that sought to make changes through the collaboration with Boys Noize, this album is mainly produced by such local producers as the up-and-coming Blue May or his longtime ally Mikey J, having Fraser T Smith stably steer the whole production. It offers great tracks ranging from the best grime including "3 Wheel-Ups" featuring Wiley and Giggs written by Swifta Beater or the raw "New Banger" by Mele to the Streets-instilling dramatic track or (probably) the fifth or sixth collaboration with his buddy Damon Albarn. All the way up to the bonus track featuring JME, the kicking album demonstrates his determination and deep musicality as Britain's No. 1 MC.