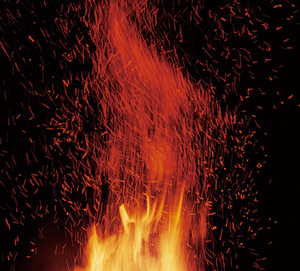 2016.07.21
日本の気鋭若手ジャズマンたちがアンビエントやミニマルの身体感覚をポスト・ロックのサウンド・プロダクションで組み合わせジャンル不問の領域を切り開いた2014年作以来の2nd。エレクトロニカを通過したドラム・ビートが先鋭化する現代ジャズよりも、モグワイやゴッド・スピード・ユー!ブラック・エンペラーの轟音との共鳴を思い起こさせる音響空間はより進化。前作に比べて一音一音に抑えを利かせながらも、サウンドとサウンドの隙間を埋める濃密な緊張感と、より重みと深みを増したバンドワゴンがジャケットで立ち上る炎の幻想的なゆらめきと熱量が聴き手を異界に導く。期待が確信に変わる未踏の傑作!
[English Translation]
rabbitoo "the torch"
Second album after the first release in 2014 on which the up-and-coming Japanese young jazzmen pioneered a new frontier of genre-less music by bringing together the feel of ambient and minimal music through the sound production techniques of post-rock. Their further-developed sound space is more evocative of the roaring sound of Mogwai or 'Godspeed You! Black Emperor' than of contemporary jazz sounds that come with sharpened drum beats influenced by electronica. While each tone is more restrained than those on the last album, a deep sense of tension filling the spaces between sounds as well as a heavier and deeper band sound, along with the magical flicker of fire on its cover, take the listeners to another world. An unexplored epic album that will turn your expectation into a rock solid certainty!