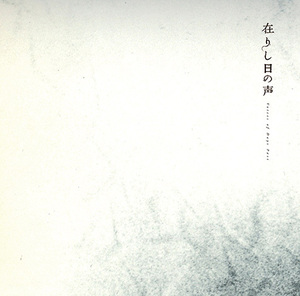 2015.05.28
中原中也の詩に2組の鬼才が音楽を寄せた企画盤。シアトリカルなBOOLと、逆に感情を抑えたSmanyを朗読者に指名したwegは"春日狂想""頑是ない歌"を深遠に、スリリングに構築。一方のVampilliaは深い男声による"宿酔""死別の翌日"のポエトリーにミニマルなピアノの旋律を添え、ドローン~ノイズを不気味に轟かせる。中也の言葉が孕む悲哀と共鳴し、新解釈を与える両者の揺るぎない個性に感動。これは良い!
[English Translation]
world's end girlfriend, Vampillia, Chuya Nakahara "Voices of Days Past"
A project in which two exceptional groups added music to poems by Chuya Nakahara. world's end girlfriend, the solo unit by Japanese musician Katsuhiko Maeda, named the theatrical artist BOOL, the founder of the poem-core label POEM CORE TOKYO, and rather contained Japanese artist Smany to be the readers. They constructed both "Shunjitsu Kyousou (meaning Spring Day Capriccio)" and "Ganze Nai Uta (meaning Innocent Song)" into profound and thrilling pieces. In the meantime, Vampillia sounds "Shukusui (meaning Hangover)" and "Shibetu no Yokujitsu (meaning A Day after Separation by Death)" in deep male voices, adding minimal piano melodies and making drone or noise sounds resonate eerily. Both groups' solid and impressive characters make their music sympathize with the sorrow in Chuya's poems and let us interpret the poems in new ways. Brilliant!