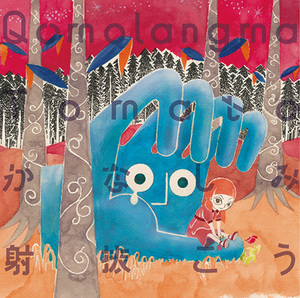 2015.07.24
自主レーベルに冠した名は、初作から詞の根底にあった〈しがらみ〉。約3年ぶりの新ミニ作も、シンプルなアンサンブルが生むファンキーなグルーヴで〈逡巡〉〈葛藤〉といったテーマを肉体的に訴える冒頭の2曲をはじめ、芯にまったくブレがない。特有のリズム感/メロディーラインを持つ石井ナルトのヴォーカリゼーションも、相変わらず無鉄砲で無防備。音に隙間があるぶん、そのナイーヴな言葉が直接的に胸に刺さる。


[English Translation]
Qomolangma Tomato  "Kanashimi Inukou (meaning Let's Arrow Through Sorrow)"

The name they put to their own label is 'Shigarami (meaning constraint),' which has been an underlying concept of their lyrics from their very first song. It's been about three years since the last release, however, the core of their music doesn't waver at all in this latest mini-album; the funky groove created by simple ensemble as in its first two songs physically expresses the theme: hesitation and conflict. The vocalization of Naruto Ishii, who has a unique sense of rhythm and melody, is reckless and vulnerable/defenseless as ever. The hollowness in the sounds make his pure and naive words come straight to our hearts even more directly.