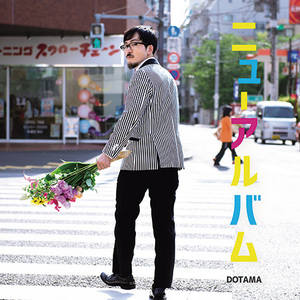 2015.09.16
ハハノシキュウとのコラボ作や〈UMB〉準優勝など、キャリアを確かなものにしているMCが、5年ぶりのソロ作を発表。今作の特徴は、その内面的な思想をあきらかにした部分だろう。前作は客観者の視点が強かったが、ここでは自身の育った栃木への思い("イオンモール"の便利さと資本主義に支配される地方都市の描き方は素晴らしい)など、彼の視点やイズムが中心になっており、新たな名刺代わりと言える充実作。


[English Translation]
DOTAMA "New Album"

MC DOTAMA, who has been establishing his career collaborating with Japanese rapper Hahanosikyu as well as winning the second place in Ultimate MC Battle (UMB), has released a solo album for the first time in 5 years. This album features the revelation of his inner thought. The last album has a more objective quality to it, but this album focuses on his own perspective and isms, such as feelings to his hometown Tochigi (, his way of describing the convenience of AEON shopping malls as well as the local city dominated by capitalism is fabulous), making it another fulfilling piece that represents him well.