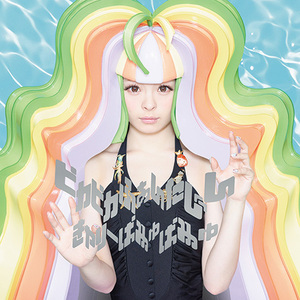 2014.07.31
基本の音楽性は踏襲しつつも、よりディズニーランド化が進んだと言おうか、木琴やピッコロ、マーチング・バンドなどの賑々しい音色が、多国籍な意匠と底抜けにハッピーなヴァイブを増幅。オノマトペとユニークなフレーズで織り成すフック・ソングも増量され、中毒性と即効性は唯一無二だ。かと思えば"ゆめのはじまりんりん"のようにセンチな名曲が光っていたりと、優れたバランス感覚で編まれた盤石の3作目。
[English Translation]
Kyary Pamyu Pamyu "Pika Pika Fantajin"
While adhering to her basic musical approach, premier performer and J-pop star Kyary Pamyu Pamyu seems to have doubled the multi-national patterns and bottomless happy-vibes in this album with the boisterous sounds of the xylophone, piccolo or marching bands, as if she has further advanced the plans of 'Disneyland-ification'. Having increased the number of stick-in-the-head 'hook' songs amplifying the usage of onomatopoeia (=imitative words) and unique phrases, the addictiveness and immediate effectivity here is like no other. But then on the other hand, there is the sentimental-toned hallmark song "Yume No Hajimarinrin" shining among the list, simply proving the superbly-balanced construction of this rock-solid 3rd album.