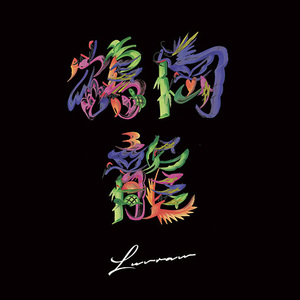 2017.01.18
BTBと共にトークボックスを操り、横浜(あるいはYOKOHAMA)のイマジネーションをぼんやり艶っぽい街灯りで描いてきたLUVRAW。2014年にPPPを脱退してからはIMAGECLUVを設立してNOPPALの処女作を送り出し、シンセ歌手(トークボクサー)として一十三十一やVIDEOTAPEMUSIC、思い出野郎Aチーム、高橋飛夢、G.RINAらの作品に参じてもいた奇才が、ここにきて鶴岡龍に改名、初のソロ・アルバムを完成させた。サンプリングは使用せず、自身の演奏と緻密な打ち込みをじっくり編集/偏執。手間と時間をかけての練り込みから生まれた濃厚な味わいは、〈トークボクサーのソロ作〉というイメージとも舌触りを異にするもの。ラテンと昭和歌謡の綺羅びやかな瞬きと侠気を裏地に仕込んで南国風味のインストやダブも絡めた視覚的な音像は、不良性とファンシーな美意識をポマードで塗り固めた、いかがわしくもキュートで奇妙な聴き心地に溢れている。"KIMINOKO"から春雨の降りしきる終盤への流れにやられる快/怪盤。
[English Translation]
Ryu Tsuruoka & Magnetics - "LUVRAW"
Joining forces with fellow Japanese BTB to deploy talkbox pedals, LUVRAW has portrayed with a street light hue the alluring city of Yokohama and his imaginative takes on the city. After leaving Japanese crossover music group Pan Pacific Playa in 2014, the prodigy launched his own IMAGECLUV label, which has put out female rapper NOPPAL's debut piece. Meanwhile, he participated as a synthesized singer or talkboxer in works by singers like Hitomi Toi, Tom Takahashi and G.RINA, film director/musician VIDEOTAPEMUSIC and soul band Omoide Yaro A Team. Now, LUVRAW has changed his name to Ryu Tsuruoka, and here comes his first solo album released under the new alias. With no use of sampling, "LUVRAW" offers a masterfully-crafted, elaborately-wrought music based on his live instrumentation and programming intricacy. Composed with care and time, it goes well beyond the confines of a talkboxer's solo effort. Leavened with the enchanting dazzle and gallantry of Latin and Japanese Showa-era pop music, the album creates an evocative soundscape that blends tropic-tinged instrumentation and dub. It's filled with a sly yet cute quirk that feels like Tsuruoka's pomade holding naughtiness and fancy aesthetic altogether. This seductive gem will surely blow your mind with a perfect flow from "KIMINOKO" to the closing "Harusame (meaning Spring Drizzle)."