トピック
Intoxicate vol. 158 features Brian Eno, Iannis Xenakis in Suntory Hall Summer Festival, Eurospace's Kenzo Horikoshi
2022.06.21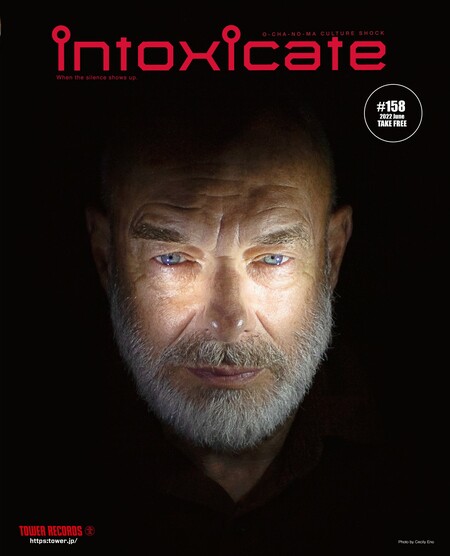 Our new issue, Tower Records Japan's free magazine Intoxicate vol. 158 "When the silence shows up" is out now.
The issue opens up with the cover contributed by the exhibiter of Brian Eno Ambient Kyoto. So Exotic Grammar begins with the one introducing this exhibition. Masato Matsumura provides a unique entry to this show. Two other Exotic Grammars are about the Summer Festival at Suntory Hall and the book of Kenzo Horikoshi, a film director and the president of Eurospace in Shibuya.
This year is the centennial of composer Iannis Xenakis. The week-long summer festival will invite the ensemble Klangforum Wien and celebrate the centenary with an amazingly curated program, which accurately provides the authentic sound design by the composer. The audience is to be surrounded by performers and speakers and to have an extraordinal spatial sonic experience. Further information about the festival is available at the official site of Suntory Hall. Yuki Kakiichi shows you how Xennakis composed and planned the sound of Persephassa for Six Percussionists (1969) and Ballet Music Kraanerg for Orchestra and Tape (1969).
The book by Kenzo Horikoshi is based on his regular essay Glory of the Independent Films - Eurospace in the monthly magazine Chikuma. He is one of the pioneers of the Japanese film industry and culture. The book sharing the same title as the essay will be on the market by the end of July.
Then, let's show you what we pick up this time.
The concerts canceled due to COVID-19 are coming back! The Japan tour of Kronos Quartet will start in September at last. Their series of concerts will unveil not only the whole music Kronos Quartet has been embracing but the entry to new chamber music. And Japan's premiere of Handel's Scilla is also announced again. Performance by Fabio Biondi with Eurpa Galante will finally meet fans at Kanagawa Prefectural Music Hall. This premiere will be its fifth of Opera project.
Physical products will break the silence against digital. Universal Music Group has just set up a new entry to the ECM catalog. It has two different entries. One is to music by improvisation. The other is to the written music. Both entries of well-selected items lead you to ECM without Keith Jarrett or Pat Metheny but with new faces directing you to another diverse ocean of silence.
And we introduce films; Elvis directed by Buz Luhmann which is literally buzzing now and Zenbu Boku No Sei (It's All My Fault) giving an important function to "Yume De Aetara (If I Met You in My Dream)" by Eiichi Ohtaki.
Intoxicate is available at these associates and volunteers as on the following link.
https://tower.jp/mag/intoxicate/specialthanks
You can buy the magazine at tower.jp.
https://tower.jp/article/campaign/2013/12/25/03
FYI English translated articles: https://mikiki.tokyo.jp/subcategory/intoxicate%20off%20the%20paper