トピック
Intoxicate vol. 163 features Mari Natsuki, Jo Kondo, Wayne Shorter
2023.04.20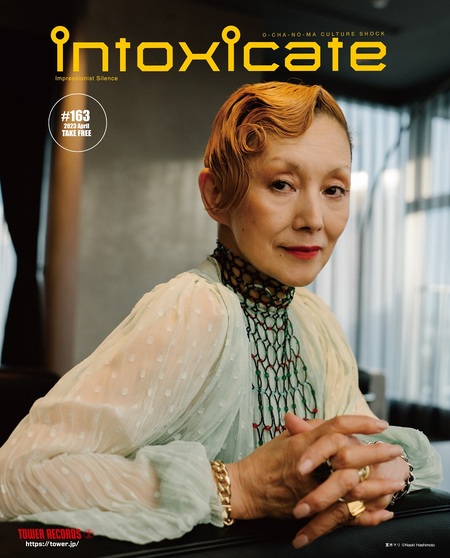 April 20 is the street date of Intoxicate vol. 163 "Impressionist Silence" issue.
The issue opens with the portrait of Mari Natsuki, who has just released a 7 inch single cut of "Tokyo Junk Boogie" on the 50th anniversary of her debut. The interview with her focuses on her lifework concert program "Impressionist", which will turn its 30th this year.
Two articles are featured on "Exotic Grammar". The first one is about composer Jo Kondo, who is the guest composer on the Composium 2023. The 5-day Composium is programmed with a documentary film, concerts of his works, and a competition judged by him. Jun'ichi Konuma, a critic of music and literature states who he is, and what his music has been and will be. Another one is from our archive, the conversation between Wayne Shorter and Naruyoshi Kikuchi of 2005. Wayne passed away on March 2 of 2023.
"Pick Up" is introducing the following events and artists. The theater piece of Bernie Dieter's "Little Death Club" at the Museum of Art, Kochi (June 24-25); the interview with the program director, Bernie will upset the accepted notions about cabaret. You can see the program exclusively there in Japan. The concert of Terry Riley at Art Tower Mito, celebrating his 88th birthday. Festa Summer Muza Kawasaki, accommodating over 30,000 audiences, is one of the most popular midsummer festivals for classical music, and La Folle Journée Tokyo will be back on the scene and break 4-year silence. See what's on their this year's programs. After the concerts with David Foster, Aska is going to resume his nationwide concerts. The special interview with Hiroya Ozaki is upon the occasion of the new release followed by concerts.
Finally, Intoxicate gives you what to see at the movie theater. Tár (on the screen after May 12) is about the groundbreaking conductor with the furious power of Berlin Philharmonic Orchestra. An analysis of the story is attempted. Other movies on our recommendation list are Oshi ga Budoukan Ittekuretara Shinu (If My Favorite Pop Idol Made It to the Budokan, I Would Die), "Maggie Cheung Retrospective", and a special screening of Pier Paolo Pasolini. You will have great introductions and critical perspectives of these films on the issue!
Intoxicate is available at these associates and volunteers as on the following link.
https://tower.jp/mag/intoxicate/specialthanks
You can buy the magazine at Tower Records Online.
https://tower.jp/article/campaign/2013/12/25/03
FYI English translated articles: https://mikiki.tokyo.jp/subcategory/intoxicate%20off%20the%20paper