コラム
前髪ぱっつんの不思議な魅力を放つ三戸なつめ、中田ヤスタカのプロデュースで歌手デビュー!
2015.04.17
 [English Translation]
Quirky but charming girl with straight bangs is making her CD debut produced by the charismatic DJ/musician/producer Yasutaka Nakata!
Text by Masashi Yuno
I had the opportunity to see NATSUME MITO's performance at an event last January. NATSUME is only 152cm (4.9 inches) tall, and with the guitar in her hands it almost seemed as though the guitar was holding her. But she fluttered across the big stage as if she were dancing with her guitar wearing a genuine smile on her face.
NATSUME was born February 1990 in Nara prefecture. She began her amateur model career in the Kansai area in 2010. By 2013 when NATSUME moved to Tokyo, she was already a huge It Girl on aomoji-kei magazines (cute Harajuku street fashion). In the same year she released her self-produce book, "NATSUME san" which became a huge success selling one hundred thousand copies. The girl I saw in the book and the girl on the stage were both genuine and real. She is not the type of girl who 'acts' her role as a singer. NATSUME's character is not just cute but also funny and her bangs say it all.
That is probably why she seems natural and doesn't have 'the-popular-model-decided-to-sing' kind of vibe. It seems as though for NATSUME, modeling and singing is part of her daily routine. So in some ways, she doesn't seem like a professional singer but on her debut single, "Maegami Kirisugita", her producer Yasutaka Nakata (DJ, producer and composer, member of the house/techno unit CAPSULE) known for producing big-name artists such as Perfume or Kyary Pamyu Pamyu, gave her his full followup by writing the song and lyrics, sound producing and performing the instruments.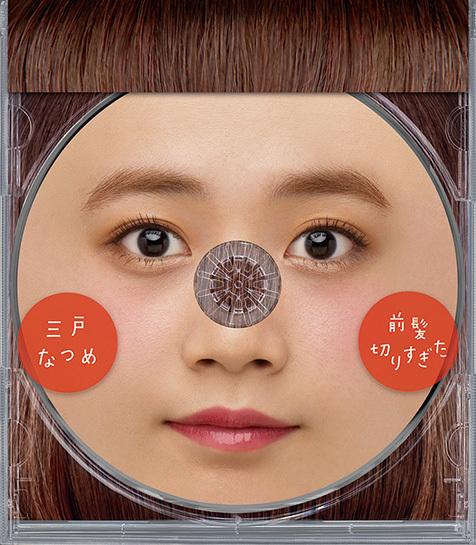 The title song delivers a well-balanced combination of Yasutaka's superb sound production skills and NATSUME's upbeat vocals singing self-introductory lyrics, "I cut my bangs too short~". Yasutaka made the song to feature NATSUME's comical character, something completely different from his works with Perfume and Kyary Pamyu Pamyu.
The colorful, happy pop sound Yasutaka used his expertise to design for NATSUME has some familiarities with artists like Meghan Trainor and Lily Allen, minus the personality and behavior. NATSUME is the type of artist who will transcend the "kawaii" stereotype of Japanese pop culture, and as you can see in her photos NATSUME might be the artist who can introduce and spread the real domestic Japanese culture. I'd like to imagine a scene where pop super stars like Ariana Grande and Jessie J would keep tabs on NATSUME, but for now let's celebrate and enjoy her glamorous debut single. The single also comes with "Colony" a light piano-led song with free and relaxed arrangements, which is also the theme song for the live action film "Koisuru Vanpaia (meaning Vampire in Love)" that opened in theatres on April 17th. The third track is about NATSUMI'S favorite snack, "Kyabetsu Taro". Listening to her sing about its salty goodness on this pop tune "Kyabetsu no Yatsu no Uta (meaning The Cabbage Thingy Song)", you will feel her quirky charms and enjoy her unique visual images. Now get ready to be captivated.