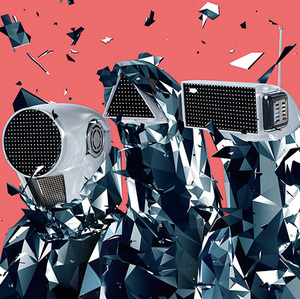 2016.06.20
メカメカしい覆面トリオの新作には、南波志帆を迎えたエレポップや初音ミクとの"千本桜"コラボなどの話題曲を搭載。そんなボカロ曲の流れを汲む切ない物語性を帯びた詞世界は、エピック・トランスからトロピカル・ハウスまで気分上々に攻めるサウンドと相まって泣き笑いな高揚を誘う。奇跡を願うラヴソング"KIRALI KANATA"をはじめ、tofubeatsにも通じるナイーヴな加工ヴォイスを活かしたロマンティックな佳曲揃い!


[English Translation]
A new album from the trio in a mechanical mask comes with much talked-about songs including the electro-pop featuring Shiho Namba (Japanese female singer) or the collaboration "Senbonzakura" with Vocaloid Hatsune Miku. Following in the wake of the vocaloid song, the sentimental, narrative lyrics, coupled with aggressive, uplifting sounds ranging from epic trance to tropical house, will make you feel intense euphoria with smiles and tears. Including the love song "KIRALI KANATA" that prays for a miracle, the album is full of excellent, romantic tracks which bring out his naive, digitally processed voice akin to the songs by tofubeats (Japanese singer/music producer/DJ)!