トピック
Intoxicate vol. 159 features Yoh Yoshida, Yuji Takahashi, Takaoki Onishi, documentary film "Other Music"
2022.08.19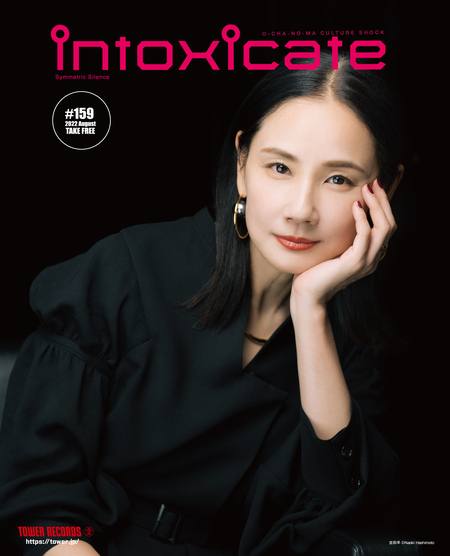 Our new issue, Tower Records Japan's free magazine Intoxicate vol. 159 "Symmetric Silence" is out August 20.
On its cover page, the portrait of the actress, Yoh Yoshida invites you to the new issue. She will open series of the concert by actors and actresses, which will start in September. This year, she is celebrating the 25th anniversary of her career, and talks about her affection to music.
Three of Exotic Grammars are; the interview with Yuji Takahashi by Jun'ichi Konuma. On August 25, Takahashi is going to release his new album Bagatelle by Bs, a piano recital of Yuji Takahashi. Takaoki Onishi, a baritone singer, is now becoming very popular on worldwide base now. He is finally making his solo debut on CD in October. Do you remember Tower Records at Village NY? Across the street, there was a fantastic records shop "Other Music", providing fanatic music lovers with other music. The third of "Exotic Grammar" is about the documentary film on it.
We pick up remarkable concert projects: Suntory Hall Summer Festival 2022 (August 21-28), Einstein on the Beach at Kanagawa Kenmin Hall (October 8, 9), the first one of its ongoing opera projects, celebrating the 50th anniversary of the hall. And the concert opera by Tokyo symphony orchestra with Jonathan Nott (cond.) adopting Salome by R. Strauss (November 18, 20), and so on.
At last, the film we recommend is The Tunnel to Summer, the Exit of Goodbyes (September 9-). Based on the light novel written by Mei Hachimoku, the novel won the Gagaga Prize and Judge's Special Prize at the Shogakukan Light Novel Grand Prize though it was her first novel. Find more about the film on Intoxicate.
Intoxicate is available at these associates and volunteers as on the following link.
https://tower.jp/mag/intoxicate/specialthanks
You can buy the magazine at Tower Records Online.
https://tower.jp/article/campaign/2013/12/25/03
FYI English translated articles: https://mikiki.tokyo.jp/subcategory/intoxicate%20off%20the%20paper