KINGDOM☆AFROCKS 『キングダム☆アフリミックス』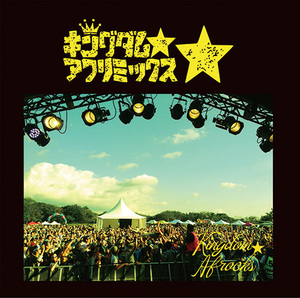 2014.10.10
個性豊かなメンバーが奏でる日本発のアフロビート! 世界基準で見ても格好良い彼らの楽曲のリミックス盤が登場。ALTZが原曲のディスコ要素を強化した"Zombie Disco"を筆頭に、トニー・アレンが参加した代表曲"I KNOW ~愛のド♬レ♪ミ♡レ☆ド~"をMUROがクラブ風にカチッと仕上げたり、HIFANAがダウナーなブレイクス風にしてみたりと、リミキサーたちの味付けを対比して聴くのも楽しい。
[English Translation]
KINGDOM☆AFROCKS "Kingdom☆Afremix"
Remix album of KINGDOM☆AFROCKS, the japanese afrobeat band consisting of unique members, whose sound is cool enough to have solid international appeal, has arrived. This album includes amazing tracks by big name remixers, including "Zombie Disco" rearranged by ALTZ (producer/remixer) enhancing the disco sound of the original, the band's signature piece "I KNOW - Ai no Do Re Mi Re Do (meaning I KNOW - Do Re Mi Re Do of Love)" featuring legendary drummer Tony Allen remixed by MURO (Japanese famous hip hop producer and DJ) applying a solid club sound, and another remix by HIFANA (Japanese breakbeat musical duo) adding downer breakbeat touches. Enjoy these awesome remixes.