Crypt City 『LIVE DEFECT』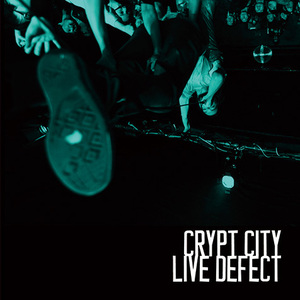 2014.07.28
猛者どもによる待ちに待った初の全国流通盤が五味岳久(LOSTAGE)主宰のTHROATから到着。昨年脱退したドラマーとギタリストのラスト・ライヴの実況盤という選択は正解で、ダンサブルにバーストする太鼓とハード・ドライヴィンな中尾憲太郎のベース、ディーン・ケスラーの熱い咆哮をインダストリアル経由のジャンク&硬質なギターがコーティングしていくマジックがパックされてます。コレが欲しかった!
[English Translation]
The long-sought first ever nationwide-distributed version of these two-fisted lads has arrived from THROAT RECORDS, the label led by the Takahisa Gomi of the Nara-based 3 piece rock band, LOSTAGE. The decision of making it a live recording disc of the last live performances of the drummer and guitarist who left the band last year was absolutely spot-on, and the piece is packed with the magic of industrial-influenced junk & hard guitar coating the danceably bursting drums, heart-driving bass by Kentaro Nakao (ex-NUMBER GIRL/SPIRAL CHORD bassist) and Dean Kessler's heated outcries. THIS is what I was starving for!