PolyphonicBranch 『神楽月レジスタンス』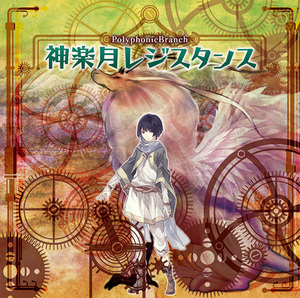 2014.10.14
レディ・ガガのツアー・サポートで初音ミクに代表曲"二次元ドリームフィーバー"を披露されるなど、注目を集めるボカロP。全曲を書き下ろした2作目は全18曲というヴォリュームで、ミクとGUMIを中心に、ギター・ロックやピアノ・ポップ、クラシカルなインスト、マーチにワルツなどを使い分けて、物語の起承転結を描く。和風のメロディーと凝ったコード進行、転調の多用といった時流にマッチするアレンジも巧みだ。
[English Translation]
PolyphonicBranch "Kagurazuki Resistance (meaning November Resistance)"

The Vocaloid producer PolyphonicBranch has been grabbing attention for his signature piece "Nijigen Dream Fever (meaning Two Dimensional Dream Fever)" by Hatsune Miku, a humanoid persona voiced by a singing synthesizer application 'Vocaloid,' being exhibited as a support act for Lady Gaga's tour.  All the tracks were newly written for this second album which has a volume of 18 tracks, and centering on Miku and GUMI, another character from the vocal software 'Megpoid,' guitar rocks, piano pops, classical instruments, marches, and waltzes are properly chosen to weave a story in the 'Kishotenketsu' structure consisting of Introduction, Development, Turn and Conclusion.  Deft arrangements with Japanese-style melody, elaborate chord progressions, and frequent modulations match the current trends.