piana 『Muse』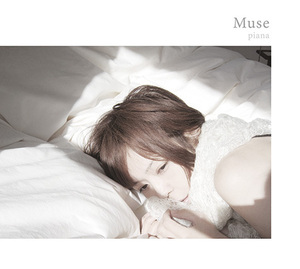 2014.07.09
北欧エレクトロニカに通じるサウンドで注目を集めたシンガー・ソングライターによる7年ぶりの新作。温もりに満ちた電子音にピアノやアコースティック・ギターなど生音が加わって、ドリーミーな音響空間を生み出していくなか、曲によっては力強いビートが際立っているのが印象的だ。美しいメロディーを紡ぎ出しながら、ゆっくり高まっていくエモーション。アルバムを貫くしなやかな力強さが、彼女の成長を感じさせる。
[English Translation]
Singer-songwriter piana, who won attention with sounds akin to Nordic electronica, has just released her latest album in 7 years. While adding live sounds of the piano or acoustic guitar to warmth-glowing electronic sounds to generate a dreamy sound space, some tracks dramatically stand out with pulsing strong beats. The emotions are heightened gradually alongside the beautifully woven melodies. The lithe dynamism that penetrates the album simply demonstrates her development as an artist.
---
pianaという名前を聴いて何かしら感慨を覚える人は長くエレクトロニカシーンを見つめて来た人かもしれない。10数年程前ツジコノリコらと共に衝撃的に登場し女性エレクトロニカのアーティストとその後のシーンに多大なる影響を残した。そのpianaが7年振りに再度シーンに現れ新作を届けてくれた。洗練されたトラックメイキングとpianaの音楽を唯一無二のものとする澄んだ少女性を湛えた歌声はそのままに、ソングライティングはより旋律に重きを置く事でその音楽、歌はかつての作品以上に普遍性を持ち合わせた様に感じた。だからこそエレクトロニカだけでなく、より幅広いリスナーに聴いて頂きたい。
[English Translation]
Those who feel a certain sense of nostalgia with the name [piana] may be those who have been immersed with the electronica scene for quite a while. This artist piana, who made an explosive debut to the scene along with France-residing Japanese 'electronica diva' Tujiko Noriko about 10 years ago and left considerable influence on other female electronica artists as well as on the scene itself, has come back to the forefront, delivering her latest album in a long 7 years. Placing more emphasis on the melodies in the songwriting, but leaving unchanged the well-polished track-making and the angelic clear 'jeune-fille' singing voice that makes piana's music the onliest, her music and songs now seem to possess more universality than any other works of the past. All the more reason, this is an album that is strongly recommended to be listened to by a vaster range of music lovers, not limited to electronica fans.