コラム
Kiki's Delivery Service and Porco Rosso, Studio Ghibli soundtracks are reissued on vinyl
Joe Hisaishi's masterworks give you musical journey
2020.10.09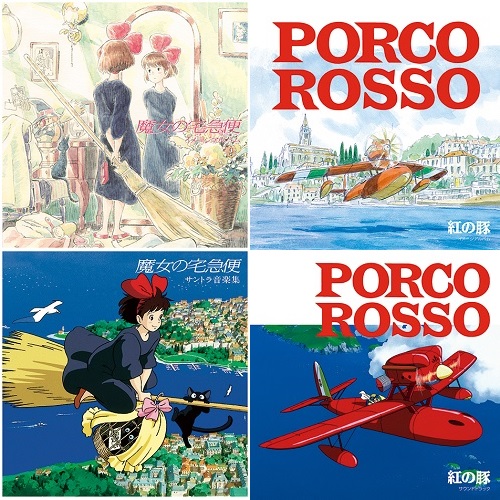 Studio Ghibli news; World premiered releases of four Analog LPs, the most wanted soundtracks of Joe Hisaishi, with new artworks – Kiki's Delivery Service: Image Album, Kiki's Delivery Service: Original Soundtrack, and Porco Rosso: Image Album, Porco Rosso: Original Soundtrack – are on the street.
"Nostalgia" of its outstanding transparency has already become universal standards and dwelled upon people's mind regardless of nationality or race. Mitaka Calling, newly released album by Giovanni Mirabassi, its wonderful sound reminds me of that "Nostalgia" again. Unknown town far away unexpectedly brings me some intimate air of my hometown so that I almost cry...; It was such sentiment that Mirabassi's album has realized by the tones filled up with subtle and gentle touch. However, such sentiment already appears on Joe Hisaishi's scores, and his melody of itself seems to stare far way.
The works with such signature melodies of his are now planned to be reissued. Kiki's Delivery Service: Image Album, Kiki's Delivery Service: Original Soundtrack, and Porco Rosso: Image Album, Porco Rosso: Original Soundtrack, these four titles are ready to be put out as the Analog LP Reissues Plan of Studio Ghibli on its second term.
It was three of early works, such as Nausicaä of the Valley of the Wind, Castle in the Sky, and My Neighbor Totoro that was released on the first term November 3 of 2018. Yet these four upcoming releases are still very popular among the fans of Studio Ghibli and soundtrack. Each of four will appear on the Analog LPs and is worth reissuing them.
Let me begin with Kiki's Delivery Service: Original Soundtrack. Rendering some of the landscapes of European towns to compose the soundtrack in 1989, many of its tracks employ local dance music as its motif perfumed with ethnicity of Europe, and even the inserted songs as "A Lipstick Message" and "You Are Tapped in Kindness" of Yumi Arai's, are tinged with exotic sentiment. And "On a Clear Day" appearing in the beginning of the film, and "A Town with an Ocean View", the song possibly called another main theme, are not too much to laud their beauty and longing to the skies. They are deserved to be appreciated as two among many of the best melodies of Ghibli.
And the next is Porco Rosso: Original Soundtrack which was recorded mainly with the full orchestra of approximately 70 musicians. Commencing with "Il Porco Rosso", the album is literally colored in the retrospective sound, and "The Time of Cherries" and "Once in a While, Talk of the Old Days", these songs Tokiko Kato sings, are excellent ones tinged in sepia.
And the other two, Kiki's Delivery Service: Image Album and Porco Rosso: Image Album are so called image albums or imaginary soundtracks which are imaginary composed by Joe Hisaishi with the inspiration of the director, Hayao Miyazaki. The former introducing the air of mediterranean into the score and the latter recollecting retrospectives of Europe and Italy in the late 1920s are the tapestry into which Nostalgia and Fantasy are woven. And these two imaginary soundtracks will give you another music journey distinguished from the original ones. Each four was newly mastered and updated the artwork. Beyond the capacity of CD, they will surely bring updated inspiration to you. Let's treasure them!