INTERVIEW
サックス奏者の寺久保エレナ、大切な人たちとの出会いと別れを音楽に込めた新作『A Time For Love』を語る
2016.02.24
Page 2 / 2
Erena Terakubo  "A Time For Love"
Interview & text by: Tatsuya Nagato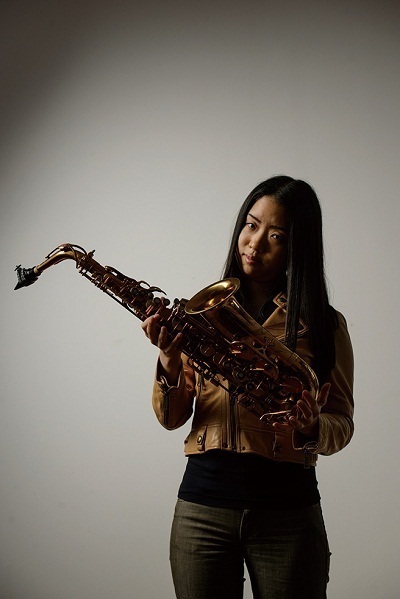 Encounters in New York and parting with her beloved ones are all injected into her music
Having encountered the works of Charles Parker in the 4th grade of elementary school, Erena Terakubo started to play jazz as a member of the local orchestra in her hometown Sapporo by the time she reached the 5th grade. She won the Boston Berklee Award at the age of 13, the youngest in its history, and made her major label debut when she was in high school. After entering the Berklee College of Music, she made further progress in her career, including making her own albums and appearing at famous music festivals, which made the name of the 23-year-old young artist known all over the world.
"After graduating from the Berklee College of Music, I started working on my own for the first time as a musician. I have been faced with a harsh reality as a Japanese and a female who has a language barrier. But I try to find out what I should do as a Japanese living in the U.S. rather than assimilating into it, and want to express it in my music. That worked as the main inspiration for this album."
It is the start of the second term in her life, which is different from what she has gone through so far under the auspices of other people. The first piece of work from Terakubo who now has no choice but to carry on by herself. When listening to the album without seeing her perform, one may imagine a beefy black musician intently playing the saxophone, with sweat flying from his face. However, the rushing stream of delicately-crafted 16th notes without a hint of looseness is none other than her own.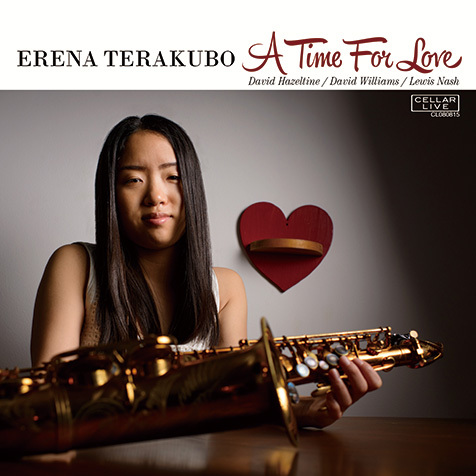 寺久保エレナ
A Time For Love
Celler Live/King International
(2016)
"Soon after coming to New York, I had an amazing encounter with Vincent Herring. He and I embarked on a mentoring relationship after I suddenly joined in his live show. We have exactly the same taste in music. Encountering such a person is like finding a ring in the desert. It appears he gave me a precious gift. He asked the president of the record label he has known well to give me a chance to produce an album, which resulted in this album "A Time For Love" co-produced by both of them."
Her desire to explore the origins of jazz culture can be found in this album more than before, making it a great piece of work for bebop fans. Some changes are also found in the sound she produces. She changed her mouthpiece to Ken Okutsu Traditional model (she now uses Okutsu's Vincent Herring Custom Model #6) and her reed to Vandoren's. This new combination resulted in a new sound, which apparently stimulated her creativity.
"The passing away of Yasohachi Ito (Japanese renowned jazz producer), who had been working as a producer since my debut, also inspired me to write. I was upset when I heard the news of his death as I had just graduated from the college. But I tried to think he was pushing me to become independent. The track "88" is a homage to Yasohachi Ito who was battling illness. Phil Woods, who I promised to meet through Herring, also passed away soon after the recording of this album was completed. He reportedly was looking forward to meeting me despite being sick in bed. I put all of these complicated feelings into the album."

Above all, her tremendous play spirit shown in the solo of each song will surely amaze you.