PART2STYLE SOUND 『BASS STATION』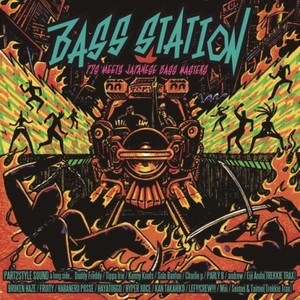 2014.08.25
ベース音楽×ダンスホールなスタイルの実力派クルーが7インチで発表してきた曲を精鋭たちが改編。Miiiらのほか、眩いシンセと暴力的なエディットでアグレッシヴな未来感を提示したBROKEN HAZEやブーミーなダブステップとレイヴが交錯するSeimei & Taimeiなど無条件でアガる曲ばかり!
PART2STYLEが発表してきた7インチ音源を再構築したナイスな企画盤。ジューク×ウィッチ・ハウスな音で聴き手を恐怖に陥れるFRUITY、ジャミーズ製〈Run Up The World〉のリメイク・オケをジャングル化したHAYATO6号、攻撃的なサイバー・ソカで耳をチクチク刺激するHABANERO POSSEほか、P2Sの提唱するフューチャー・ダンスホールの〈さらにその先〉を見せてくれます! 全ベース・ファン必聴!!
[English Translation]
A great remix album from Japanese bass music team, PART2STYLE, recompiling their 7 inch sound sources released in the past. A prime select of artists including FRUITY, owner of juke & footwork label SHINKARON and who throws listeners into a pool of terror with his hybrid of juke and witch house sounds, Shizuoka-based DJ and trackmaker, HAYATO6GO who jungle-nized the remake version of King Jammy's riddim, "Run Down The World", or HABANERO POSSE, the popular DJ and trackmaking unit formed by the club scene imperative FYS aka BINGO and GUNHEAD, sending tingling sensations to the eardrums with the aggressive cyber soca sounds etc., all contribute in taking the listeners to the dimension beyond the future dance hall domain that P2S advocates! A must listen for any bass music fan!