平石佳啓 『MY ART ~Blue~』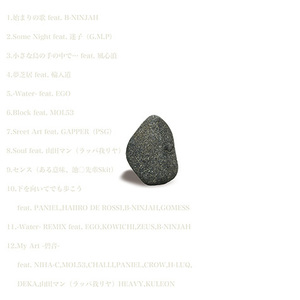 2015.01.20
愛知のトラックメイカーによる初作。最初はゲストの名前で引っ掛かったのだが……B-ninjah(!)の心情を受け止める冒頭の"始まりの歌"から緻密なループと言葉の織り成す世界に引き込まれる。澄んだビートの水鏡を前に、GAPPERや輪入道、KOWICHIにZEUSらの語りも己の内側を見つめ直すかのよう。特にPANIELにHAIIRO DE ROSSI、B-ninjah、GOMESSがマイクを回す"下を向いてでも歩こう"は圧巻。繊細で、強い。
[English Translation]
Hiraishi Yoshihiro  "MY ART~Blue~"
This is the first release by the Aichi-based beatmaker.  At first, I was hung up on the guest's name… but the world of reggae singer B-ninjah (who was previously behind bars due to drug abuse) 's weaving words and the elaborate loops on the opening track, "Hajimari No Uta (meaning The Beginning Song)", sucks you in. Rappers and MCs such as GAPPER, Wanyudo, KOWICHI, and ZEUS spit introspective lyrics in front of clear beats that reflect on water. "Shita Wo Muitedemo Aruko (meaning Let's Walk Even While Looking Down)", featuring fellow artists such as PANIEL, HAIIRO DE ROSSI, B-ninjah, and GOMESS passing the mic around, is a masterpiece in particular.  Delicate yet strong.