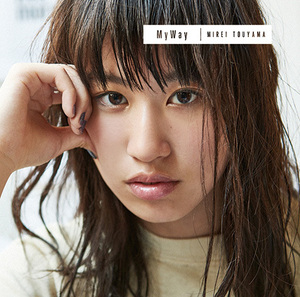 2016.08.09
ティーンになる前から歌とダンス、楽曲制作を始め、華々しい経歴を持つ現役女子高生シンガーとして脚光を浴びた當山みれい。そのデビュー・シングル『Fallin' Out/I Wanna NO』(2014年)が15歳の時で、そこから重ねた経験を集大成したこのファースト・アルバムは、18歳の誕生日のリリースだ。昨年のSPICY CHOCOLATEから直近のRADIO FISHに至るまで客演はありつつ、自作のリリースはしばらく空いたが、その間のイメージの変化は素顔に近い表情のジャケを見れば一目瞭然。そんなナチュラルな雰囲気は、清水翔太プロデュースの表題曲や、MANABOONとの共作でストレートな歌を聴かせる"君となら"など、メロディアスなミディアムに印象的に投影されている。☆Taku Takahashiのトラックもキャッチーな"Love Me Crazy"、ダンス・ユニットのBAD QUEENとコラボしたSWING-O製の"Queen's Alive"などでは縦横無尽な歌いっぷりも全開で、底知れないポテンシャルをひとまずまとめた区切りの一枚と言えそう。
[English Translation]
Mirei Touyama "My Way"
Mirei Touyama has basked in the limelight as a high school girl singer with a brilliant career who started singing, dancing and song-writing before she became a teenager. Since her debut single "Fallin' Out / I wanna NO," which came out in 2014 when she was 15, she has gained experience, culminating in this first album on her 18th birthday. While featured by Japanese soundsystem SPICY CHOCOLATE last year and more recently by dance pop project RADIO FISH, she hasn't put out her solo work for some time. How she has transformed meanwhile is instantly apparent on the cover of the album where her face wears an almost innocent expression. This pure, natural mood is memorably reflected on the melodious mediums such as the title track, produced by Japanese singer-songwriter Shota Shimizu, and "Kimi To Nara (meaning With You,)" a collaboration with Japanese composer MANABOON in which Touyama demonstrates her straight vocal. The catchy "Love Me Crazy" by ☆Taku Takahashi from Japanese hip-hop duo M-Flo, on the other hand, sees Touyama careening across it with her powerful singing energy. The same goes for "Queen's Alive," a track produced by Japanese track maker SWING-O where Touyama teams up with street dance duo BAD QUEEN. This seems like an album that provides a tentative summary of her limitless potential.