Final Spank Happy's "Mint Exorcist" – The CD dressed in very sensual and sweet costume, extols and accelerates the capitalism to its death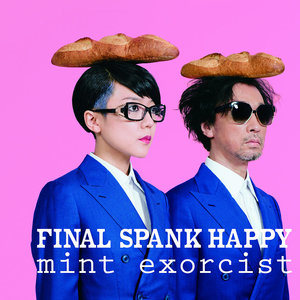 2019.12.27
The CD dressed in horribly sensual and sweet costume, extols and accelerates the capitalism to its death.
"Final Spank Happy" is the complete metamorphosis of "Spank Happy," prompted by BOSS THE NK (≠Naruyoshi Kikuchi) with OD (≠Tomomi Oda) who is designated to be "the first and the last, perfect partner of the duo" and admired her as "the unique artist to be able to perform in both Spank Happy and DC/PRG." The new album released in more than a year from their premier performance includes "Ennui Électriques" on its 5th track, which amazingly cloned its original version, a repertoire from the second season of Spank Happy. The song, compared with other songs, seems to be functioned as a pivot to change the mode, casting a slow light over rest of tracks.
The album teas up its skin with the song "Nice Cut" coming out on the same feel of the beat of "Happy" by Pharrell Williams.  After sacking up their own juice, "Devils Haircut," a radical interpretation applying the idea of "Taiso" by Yellow Magic Orhchestra, that develops around idioms of minimalistic piano, is followed without a breath.  And the music goes with an either musical or techno situation till the track of "Amerfuri Techno (Techno in the Rain)" which allegedly involves both situations, in a manic state. After "Ennui Électriques," the climate turns into a depressive state.
And OD's vocal gives a distinguished nuance to each song diversified in rhythmic approaches varied from twisted-corrupted cross rhythm, trap to house. This change of tone reminds me of her change of clothes during the performance. After listening to the album Mint Exorcist, I have an impression that the first of the final and their complete metamorphosis underscore "elegance." "Alien Sex Friend" a song singing out dreamy intercourse at "Akasaka" and "Myeong-dong" with alien, the word meant here to be both "aliens" and "foreigners," (and also another song by Kemono "tO→Kio") shows their "mint conditioned" directions. This is the CD dressed in very sensual and sweet costume, extols and accelerates the capitalism to its death.