トピック
Intoxicate vol. 160 features Glenn Gould, David Lang and Yoshi Minoda's "Note to a Friend", Jean‐Luc Godard
2022.10.11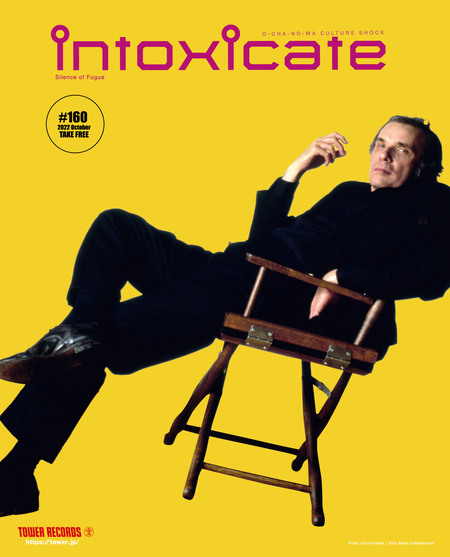 News Letter from Intoxicate:
October 10 is the street date of #160 "Silence of Fugue".
Glenn Gould, pianist, composer, and writer appears on the cover. This year we celebrate both his 90th birthday and 40 years after his death. Atsushi Suzuki untangles his charm and uniqueness why people are eager to talk about him. Please put your attention on remarkable releases such as his sealed recordings and reissues on vinyl. Topics of "Exotic Grammar" are on the opera Note to a Friend, based on a writing by Ryunosuke Akutagawa, a new composition by David Lang, and on Jean‐Luc Godard who passed away last September 13. Note to a Friend is staged by Yoshi Minoda, and Junichi Konuma had an interview with him. Takashi Kitakoji contributes a memorial article of JLG.
We pick up Jasmin Town exhibited at Yokohama International Performing Arts Meeting, Hear It Is: A Tribute to Leonard Cohen by Larry Klein, Junko Onishi who produces her ambitious concert at Kawasaki Jazz Festival, Kuniko Kato who also produces "Steve Reich Project", the exhibition "Dialogues of the Muses: The Paris Opera House and the Arts" at Artizon Museum from November 15, and Issei Noro who reactivate the 4th season of Casiopea (Casiopea-P4).
Intoxicate free-screening selects The Bee Gees: How Can You Mend a Broken Heart (on the screen from November 25), a documentary film about the Bee Gees, a band of brothers with so many wonderful songs with so many memories behind them. Please apply for the screening!
The first Intoxicate concert will be at the new theater "I'm a Show" Yurakucho on December 13. Takuma Watanabe Ensemble will play quiet, ambient, and sacred music.
Intoxicate is available at these associates and volunteers as on the following link.
https://tower.jp/mag/intoxicate/specialthanks
You can buy the magazine at Tower Records Online.
https://tower.jp/article/campaign/2013/12/25/03
FYI English translated articles:
https://mikiki.tokyo.jp/subcategory/intoxicate%20off%20the%20paper