COLUMN
SFテクノ・ポップ描く3人組Cupitron、玉城和夢からアクフェンまで集結したエレクトロな新シングルに注目!
【ZOKKON -candy floss pop suite-】第44回 Pt.7
2015.08.10
Cupitron  "Robot Boy Robot Girl"

By: Koji Dejima


The Summer Triangle twinkles colorfully from the future!
Cupitron -- Bajune Tobeta (musician/filmmaker/producer) sent out this trio formed by Nichika Yamakawa, Saika Hamada, and Rina Miyakawa under the catch phrase [Colorful Pop from Techno World]. Tobeta is a versatile creator, who used to oversee t.c.princess (idol group dissolved in 2013) of the overall sound aspects, and currently works with Tsuri Bit (idol group), and the concept of Cupitron, which depicts colorful techno pop in the motif of neo-future sci-fi, shows an aspect of his crossing of electronic music with dance music, which he used to perform under the name of MACHO ROBOT.
After releasing their debut song "Summer Kaiju (meaning Summer Monster)" online and making their unveiling concert a major success last June, this trio soon got the opportunity to perform at TIF (Tokyo Idol Festival) and released their first single "Unicorn Parade" in September. This February, they released their second single "Battery," and their own show, [Galaxy Party], has been held monthly on a great note. They marked their first anniversary this June, and at just the right time, Saika was chosen for a regular member of a TV show called [R-no-Housoku (meaning Law of R)] aired by NHK Educational TV. Amid all of these series of happy events, Cupitron made a new release of "Robot Boy Robot Girl" right before their second TIF.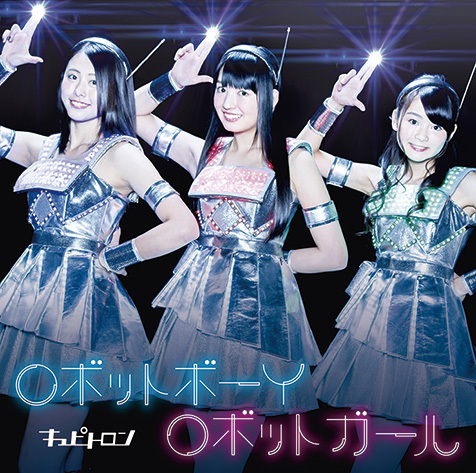 Cupitron
ロボットボーイ ロボットガール
Kisspoint
(2015)
While all previous single-released title songs by Cupitron had an upbeat groove in which fancy glitter is interlaced with beautiful and emotional melodies, "Robot Boy Robot Girl" is rather a fantasy-like artwork designed to give listeners the feel of humane catchiness as it plays relaxing melodies along to danceable electro pop. The song is composed by Kushita Mine, who wrote "Denshikeisanki no Yume (meaning Dream of the Electronic Computer)" on the last single, the lyrics are by Tobeta, and Tobeta and Yusuke Nakamura (BLU-SWING, sound creator/musician/producer) edited it; these members haven't changed since Cupitron made their debut. Also important is the point that Nagomu Tamaki (akinyan electro, DJ/track maker) has been taking part in the production since the last single "Battery."
Meanwhile, B-side songs which differ for each edition are also excellent in their outcomes, including "Uchu de Milk Cocoa (meaning Hot Chocolate in Space)," in which the oriental melody and wobbly dynamism cross each other. Also noteworthy are facts that Tamaki was involved in the making of the expansive and large-scale dance track "We are Cupitron," while Tetsuya Hikita+NIL from PROGRESSIVE FOrM, which Tobeta has close relation to, backed up the track "π", - a piece with nonsense-but-amusing lyrics. Moreover, the genius musician, Akufen successfully surprises us by remixing "Summer Kaiju" in a funky manner, - something akin to his works made under his other pseudonym, 'horror inc.' In any case, thanks to Tobeta's consistent quality control, all the numbers are the most satisfactory ever even if you don't take into account those names.
By the way, each costume is equipped with 200 LED bulbs, and altogether are able to make no less than 16.77 million of color patterns, though, their twinkling cuteness and the bright and multicolored music numbers definitely make them even more colorful. This summer, give great attention to Cupitron – they are brighter than the Summer Triangle!