FRUITY 『LET DA MUZIK TALK』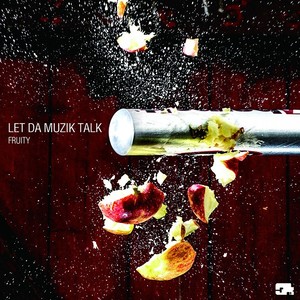 2014.08.25
ジューク/フットワークに特化した東京のレーベル、SHINKARONを主宰する現場叩き上げの実力派DJ。レーベルにとっても初のフィジカル作品となる本作では、ミスター・デーのゲットー・テック名曲をモロ使いするなど、過去の文脈を踏まえた乱痴気騒ぎが最高! soakubeats曲のリミックスも収録してます。
注目レーベルのSHINKARON代表で、DJラシャドの来日公演にも参加したジューク/フットワーク界の若手有力株が初作を発表! レーベルメイトのBoogie MannとWeezyを迎えた"Click To Soundz"をはじめ、メロウな音色を軸にスネア&ハットのループが徐々に加速していく攻めのサウンドからは、現場のDJで培った手腕と気迫が感じられる。なかでも"Sex On Da B****"のエロティックな声ネタは、かなりの身悶え度!
[English Translation]
Young-and-rising juke/footwork artist and frontman of happening label SHINKARON who participated as supporting act for DJ Rashad's Japan tour has dropped his  first-ever album! Aggressive sounds with gradually accelerating snare&hat loops evolving around mellow timbre such as in hurtling "Click To Soundz" supported by fellow label artists, Boogie Mann and Weezy, retains the premium mastership and great verve cultivated by the on-scene DJs. Beware, the breathy vocals on erotica "Sex On Da B****" is enough to make you squirm!