COLUMN
アレクサンドル・デスプラが川端康成の「無言」を基に作った初オペラ『サイレンス』をパリで観た
2019.07.10
A World Premier Concert in Paris,
First Opera of Alexandre Desplat  - "Silence" - Based on Yasunari Kwabata's  Same Title Short Story
Text in Japanese:Yuki Kakiichi 
Alexandre Desplat is a well known film composer with his delicate touches and witty remarks on his film scores from "Girl with a Pearl Earing" to two recent Academy Awards winning ones, "The Grand Budapest Hotel", and "The Shape of Water". His first opera "Silence" was premiered at GRAND THÉÂTRE, LUXEMBOURG (Feb 26,27) and THÉÂTRE DES BOUFFES DU NORD, Paris (Mar 2,3) , and gathered attention from the world.
His list of whole compositions has a few works as a piece for solo flute and a concerto for flute and orchestra which exclude film or theater related works, but no vocal composition at all, up until this opera. He avoids the vocal style with vibrato, and exaggerate operatic expression of romantic style. The idea of chamber ensemble comprised of one for each of soprano, baritone, and narrator, and 10 for instrumentalists enables him to realize subtle and nuanced orchestration for this opera.
The script is based on the "Silence", a short story by Yasunari Kawabata. It was chosen because of its detached and phantasmagoric aspect. The violinist, Solrey ( = Dominique Lemonnier) who has been Desplat's partner both in business and private, is the co-writer of the script. She is the director of dramatic interpretations, acting plans, and also the images on the video. An accident occurred in the story that a novelist lost his ability to write due to the stroke, overlaps the real one of Solrey's, that the aftereffect of her brain surgery disabled her to move her left fingers as well as she could before. So, in this Opera, the question, how the artists who lost their own expression means could survive, is raised by Desplat and her. Intentionally, this question remains unanswered throughout the performance.  The words and thoughts distracted between the real and fiction, or illusion as in dreams, successfully bring impacts on the drama.
 His instrumentation of the opera is partially tinged with Japanese traditional music , having such intakes from "Gagaku" as the orchestration by the threes of same instruments (3Flutes / 3Clarinets / String Trio / Percussion ), its opening sound evoking Netori ( collective voicing or tuning ), the scene with booze having hichiriki tone by piccolo, tone of plucking Koto by pizzicato of strings, pentatonic scales of Japanese traditional music, and unisons of instrumentals and vocals. But there you will find the composer's signature sound surfacing subtle nuances, in the mixtures of different soundscapes over the echoes of modal and minimal music manners. Two notes motif of descending minor third, played several times repetitively, left me a strong impression by its emptiness, referring to unsettled moments in the script. Another impressive finding was that prerecorded footage of Solrey's violin, which signifies the "Ghost" to describe the writer as a living ghost, or a female getting on the taxi as the one.
Vocal melodies remind me of those of Debussy's, or Poulenc's, which keep clear articulations of French. Vocals cut as much vibrato as possible, simple vocal style without any ornamentations, these intentionally conceived expressions for the voice fit well into those of Kawabata's text.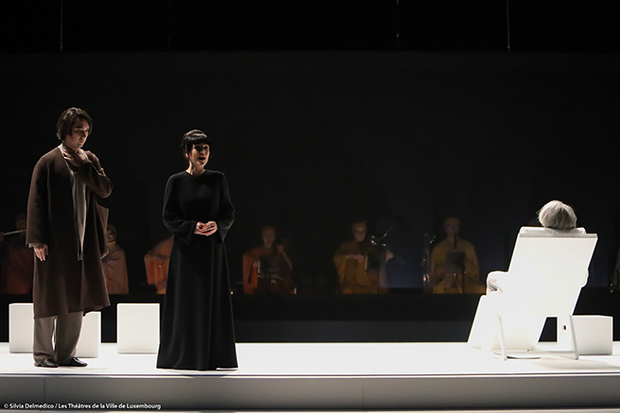 The stage plot by Solrey, locates the musicians at the back. Their colorful costumes, reflecting images of "nature" (designed by Pierpaolo Piccioli - Valentino ) create unique presence as one part of the stage design, against colorless stage sets, two singers and a narrator. Costumes, not figurative yet Asian, together with the absence of conductor on the stage (Desplat conducts ensemble at the stage wing, and the small screen in the theater enables ensemble to follow his conduction ), also insinuates the formation of Gagaku performance.
The stage is divided into three section. These 3 sections are arranged from the back to the front as follow; each for the ensemble and writer's house, and another for the narrator. These are occasionally separated by half transparent screens to be opened and shut. The number "3" functions as the symbol, not only for the division of the stage, but also for the characters, music, and the duration. Only floor, chair and mirror are the stage props. The set is designed in the simplest manner as possible (Stage and lighting design by Eric Soyer ).  Japanese manners of the characters appeared in a daughter of writer's and disciple in black straight- haired who bows politely, and a taxi driver in white globes with a uniform cap on, are realized properly. Eyes of Japanese male novelist, games of professional baseball on TV, or a woman in Kimono, a ghost with metic beauty, these images on the screen, showing directors' homage to the spirit of Kawabata, accurately render "JAPAN" as inscribed in his works.
Their deep understanding and love of Kawabata's novels and Japanese cultures, which keep direction of the production away from " JAPONISM ", an exoticism, has bridged to another possible opera world through unique interpretation by their own aesthetics, which is differed from that of Toshio Hosokawa's and Péter Eötvös's
With ductile vocal ability to control even in lower range, Camille Poul beautifully performed the roll of Tomiko, a reserved daughter but who speaks for her silent father. And Mikhail Timoshenko successfully created visionary appearances of Mita, a disciple visiting his master.  Sava Lolov, a narrator for many different characters, played a roll to exorcise wet, depressed impression by cynical tone which is slightly different nuances of the original text.
The performance of Ensemble United Instruments of Lucilin was phenomenal, and represented the orchestrations with meticulous details of Desplat's to render invisibles.
The opera is coming to Japan next January, to be performed at Kanagawa prefectural Music Hall and ROHM Theater Kyoto. It will be very interesting to see how Japanese audience will receive the opera based on the interpretation of Kawabata's short story by Desplat, a french film music composer, and an expert of Japan, a year after 120th anniversary of Kawabata's birth.
translated by Kazuki Takami(intoxicate)
---
FEBRUARY 26-27, 2019 & MARCH 2-3, 2019 | SILENCE
CONCERT
World Premiere of SILENCE, A chamber operina for 1 mezzo-soprano, 1 baritone-bass, 1 comedian and 10 musicians
Music by Alexandre Desplat, libretto by Alexandre Desplat and Solrey after SILENCE by Yasunari Kawabata
With Camille Poul (soprano), Mikhail Timoshenko (baritone-bass), Sava Lolov (comedian, narrator)
And ensemble United Instruments of Lucilin
At GRAND THÉÂTRE, LUXEMBOURG, 1 Rond-point Schuman, L-2525 Luxembourg (Luxembourg)
· Tuesday February 26, 2019 at 20:00 ˃ RESERVATIONS HERE
· Wednesday February 27, 2019 at 20:00 ˃ RESERVATIONS HERE
At THÉÂTRE DES BOUFFES DU NORD, 37bis Bd de La Chapelle, F-75010 Paris (France)
· Saturday March 2, 2019 at 20:30 ˃ RESERVATIONS HERE
· Sunday march 3, 2019 at 16:00 ˃ RESERVATIONS HERE
CREDITS
EN SILENCE
by Alexandre Desplat & Solrey
based on a novel by Yasunari Kawabata
Libretto: Alexandre Desplat & Solrey
Composition and musical direction: Alexandre Desplat
Direction and video: Solrey
with: Camille Poul (soprano), Mikhail Timoshenko (bass-baritone), Sava Lolov (narrator)
Ensemble United Instruments of Lucilin:
André Pons-Valdès (violin), Danielle Hennicot (viola), Ingrid Schoenlaub (cello), Sophie Deshayes (flutes), Gionata Sgambaro (flutes), Pierre Golse (flutes), Marcel Lallemang (clarinets), Max Mausen (clarinets), Christelle Pochet (clarinets), Guy Frisch (percussions)
Vocal coaching – associate music direction: Emmanuel Olivier
Stage and lighting design: Eric Soyer
Costume design: Pierpaolo Piccioli
Artistic collaboration: Charles Chemin
Collaboration to movements: Mélanie Lomoff
Production: Les Théâtres de la Ville de Luxembourg
Coproduction: Galilea Music, United Instruments of Lucilin, C.I.C.T. – Théâtre des Bouffes du Nord
In association with: EdM Productions