Page 2 / 2
 [English Translation]
Shintaro Sakamoto "Let's Dance Raw"
The newest album by Shintaro Sakamoto is a nonstop pleasingly snug listen, -well, that's if you simply 'listen' to it. Once you surrender yourself to the limitlessly laid-back groove, what slowly rears its head is a reticent warning. Waiting beyond the blandly depicted catastrophe is...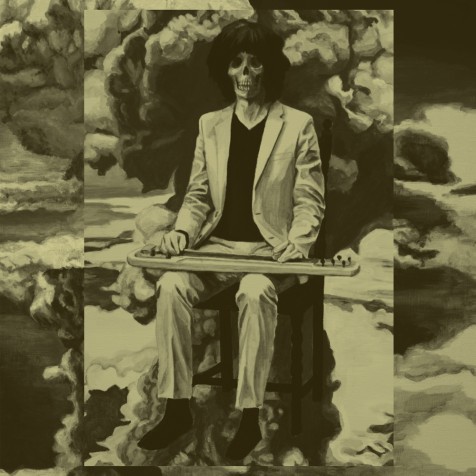 Shintaro Sakamoto
Let's Dance Raw
zelone
(2014)
The post-bewildered but yet composed 'well-then'-manner willingness to take action
This second solo work in 3 years by this singer-songwriter enjoying both international and domestic attention for his works, such as releasing a 7-inch split album with Mayer Hawthorne covering each other's songs, starts off by taking the listener by surprise with opening the album by female vocals. If the previous release can be considered as a 'sweet-adult dance album' born from the beats of a conga played with abandon by the singer after the breakup of Yura Yura Teikoku (the rock band Sakamoto belonged to as the vocalist/guitarist), this one has an eye-catching highlight of being a concept-work built upon one theme, 'post-annihilation earth'. Starting with "Anata mo Robot ni Nareru (You Can Be A Robot, Too)" that resounds with bouncy banjo and steel guitar, the band sound given classy arrangements employing a range of instruments and chipmunk-voice choruses portrays a spooky contrast with the words about apocalypse and emptiness, put together in a detached tone by Sakamoto (and actually of which some phrases seems to refer to Japan today). 
Meanwhile, also interesting is that even though the idea of 'apocalypse' is there, there are nuances slightly different from complete pessimism. Like putting after the track "Mo Yameta (Gently Disappear)", a track called "Yamerarenai Nazeka (Why Can't I Stop?)", and concluding the album with "Kono Yo wa Motto Sutekina Hazu (This World Should Be More Wonderful)", a track closing with a call-and-response of "destroy everything/this world should be more wonderful" – as if being bewildered at first with the sight of the world ending, but then picking himself up to move on and take action. Perhaps that is where the term 'raw' in the title comes from. A quality piece somewhat akin to the solo debut work by Haruomi Hosono (of The Happy End and YMO), demonstrating a light and unfazed 'Sakamoto-style pops'.
Written by: Kazumichi Sato
An album like a manga by Osamu Tezuka (known as the godfather of anime)
Ever since going solo, Sakamoto seems to be eyeing over sounds that do not necessarily force sympathy from the listener, even while maintaining a certain degree of comfort  from soul, disco, mood music or Latin sounds. That can be interpreted as a form of resistance against (Japanese) rock today that every so often demands 'a sense of unity', and also a warning against this creepy modern society where everyone has somehow become apt to behaving in the same way.
And this second solo work "Nama de Odoro (Let's Dance Raw)" is a piece where Sakamoto's silent edification is made much stronger than the previous album, ringing the warning bell with a much heightened sense of crisis. Including the school song-like "Mirai no Komori-uta (Future Lullaby)" with the singing by a girl (who is actually the daughter of Yura Yura Teikoku's engineer Soichiro Nakamura, and has appeared in previous Sakamoto works), or Hawaiian flavor "Kono Yo wa Motto Sutekina Hazu(This World Should Be More Wonderful)", beautiful with the steel guitar sounds, each song is coated with some kind of a loose atmosphere. The album welcomes Yuichi Suganuma on drums and AYA from rock band OOIOO on bass, forming a trio for the recording, though there is absolutely no trace of a so-called rock band-ishness, and if you simply pick out the tracks without the vocals, it is lukewarm enough to be played in a hotel lobby in Hawaii. However, the lyrics are directed towards modern humans who have lost sight of their own visions, as well as to the expression-less modern society. The sound itself is pops, - something that might be loosely played in the background of a lounge and simple enough for a child to enjoy. But then there is this abnormal eeriness where messages as if giving warnings of the society running up to fascism suddenly slip out! Has there ever been any such pops music like an Osamu Tezuka manga!?
Written by: Shino Okamura