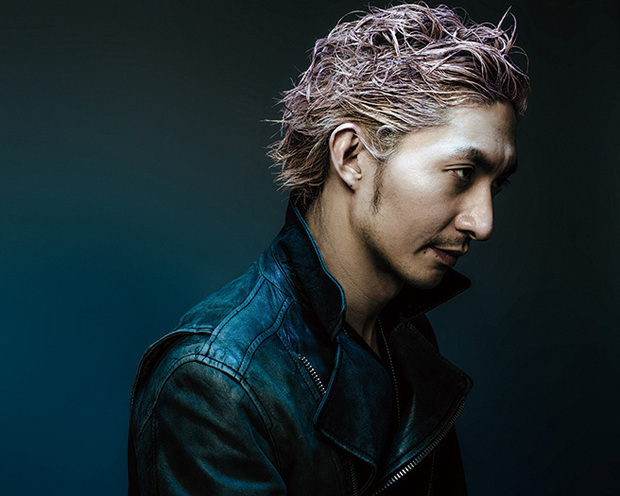 BIGYUKI  "Greek Fire"

Interviewed and written by: Tsuyoshi Hayashi

The border-crossing wizard that sends keyboards up in flames triumphally makes his way back to Japan!!
Sheer smashing talent. Delicate touches and elegant melos that flashes his grounding in classical music rudely gives way to viciously striking ferocity. The impact one is hit by with their first listen to "Greek Fire", the debut album from BIGYUKI to be released in his homeland Japan, is something akin to that of Prince whom he claims to have been his favorite in his high school days. Simply genius, or wizard, shall we put it?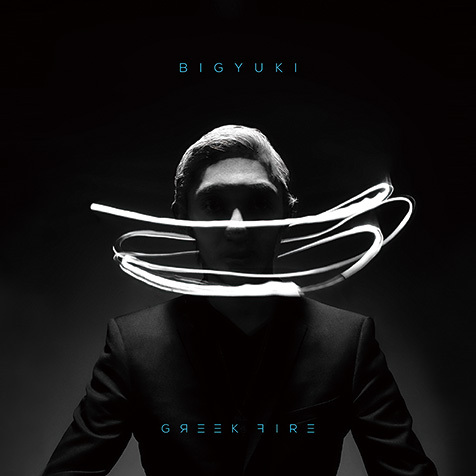 BIGYUKI
Greek Fire
HighBreed/ユニバーサル
(2016)
Drawn to the vibe of NY
It was only a bit before his debut work was being released in the US last autumn that I realized that Masayuki Hirano - the musician who appeared on Bilal's "Airtight's Revenge" (2010) and "A Love Surreal" (2013), and who also was playing behind Bilal on his shows as the keyboardist, alongside Berklee College days roommate Dai Miyazaki (Philadelphia-residing soul guitarist) - was actually the same person as BIGYUKI. Together with Yukihiro Kanesaka - who currently goes under the stage name [monolog] - he used to be called by the name [yuki] during their Berklee days. Confusion occurred as to which [yuki] was which, leading to the need to distinguish between the two [yuki]s, resulting to the taller one to be called, -which he decided to use as the stage name we know today. 
Currently 34 years of age, BIGYUKI who started fiddling around with the upright piano that had been passed down to his mother from his grandmother, started his classical music education at the age of 6, and according to the artist himself, took the decision to forward his studies at Berklee College of Music, given the encouraging nudge in the back by his parents who both had once lived in the States, which he won scholarship for by playing a Chopin piece. Ever since he laid his hands the CD of "Odoru Ponpokorin", the theme song for a popular household TV anime, he extended his listening to big acts such as Tatsuro Yamashita, Yosui Inoue or TM NETWORK, and grew up to blast the music of Atari Teenage Riot out of the speakers at home. It was only after he set his foot in US that he encountered the kind of music that had direct impact on him that would later define the music he plays today.
A summary of his own words on his musical path during his college days in Boston goes something like this: devotedly listened to Phineas Newborn Jr, Kenny Kirkland, Brad Mehldau, and Joey Calderazzo; discovered organ jazz acts such as Lonnie Smith and forms an organ quartet; used to play on the street for a while before awakening to funk from listening to Maceo Parker's "Life on Planet Groove" and participated in live sessions that played tunes such as the classics of Herbie Hancock from his electric days.  On another front, he would also play at church bands, and while being taken with Russell Ferrante of The Yellowjackets, he discovers music of J Dilla and also gets struck by the sounds of James Blake. 
He relocates to New York, drawn to the 'vibe of the city' in the late noughties, and lands himself in the two bands by Bilal and Talib Qweli. For over the past 2 years, he has been seen taking place in recording sessions in Q-Tip's studio, in which at one time, he found himself teaching Q how to play the melody of a Horace Silver tune… "Greek Fire" comes as the fruit of the embracing of the treasurable connections he has cultivated through all these experiences. 
The sense of being isolated from the real world
Guitarist Randy Runyon -whom he shared the stage when playing in Bilal's band- along with drummer Daru Jones -whom he played together on Talib Kweli's band and who served as the catalyst for him to get involved with Idle Warship and Reflection Eternal- both contributes in creating the elegant yet chaotic sound world. With regards to Daru who co-produced 5 (of the early) tracks, BIGYUKI looks back saying "Daru's sense of beats served as great inspirations for me," while he also adds that Tariq Khan who produced and mixed the album is a benefactor figure to him. The title of the album seems to have been decided at Tariq's suggestion.
"(It's about) a flame gun used by the Byzantine Empire at naval battles," explains BIGYUKI. "For a long time, I've had a strong attachment to flames. The image is of myself trying to sublimate through this catalyst called music, the depressing melancholy built within."
 "John Connor", featuring Bilal as guest musician, is the track emblematic of the album that BIGYUKI explains "is of the image of a resistance striving to restore humanity in a devastated world". He continues to say that "It is a track inspired solidly by (the leader of the resistance movement in) the film [The Terminator]", and associating this with the fact that the remix of Bilal's "West Side Girl" by BIGYUKI has been included as a bonus track to the Japanese version of the album this time, what lies in front of us is the surrealistic world that echoes with "A Love Surreal". Just as BIGYUKI explains, "Gigs with Bilal is unique. Like there's this weird excitement as if we're all waiting for someone to screw up or spoil the underlying base track." Ace player, Justin Tyson, whom BIGYUKI commends as "a musician of intensity and an exhilarating sense of beats", is assigned as the drummer on this album. "revolution US" is one such track on which Justin plays the drums –a long and slow track that features guest artists, Chris Turner, who is also junior to Bilal, and harmonica player, Gregoire Maret. "On the first listen when the melody just came out," BIGYUKI recalls, "the unobtrusive but yet sympathetically speaking image of the melody instantly brought Chris' voice to my mind." At the same time, he also adds that the track is based on the concept of "a person who has connection with an outer world breaking through the shell to encounter the infinite possibilities of mankind." 
Looking back, as a young boy learning the piano, BIGYUKI says he used to like the sense of getting disconnected from the real world when he was able to play well, absorbed in his concentration. And that sense of [disconnection from the real world] is precisely what can be felt from this latest album. Including the brother-and-sister tracks, "Red Pill" and "Blue Pill", each and every track, though short in length, wears the presence of a magnificent suite, stirring up the heart of the listener. Among which in particular, "Freshly Squeezed" is a piece geared toward the line of Hudson Mohawke ~TNGHT's sounds that BIGYUKI comments "it's really all about the synths at the very beginning", and the title track that "was made into a true 'rock' number due to the emerged desire of completely destroying the beautiful motif after playing it numerous times on the piano", demonstrating a simply stunning craziness that will leave one speachless. On the other hand, there also is "Paradise Descended" with the beautiful 'slightly mellowish looping' piano phrase, that may be compared to the jazz techniques works of Marcus Strickland whom he made appearance on the latest works, or Robert Glasper whom he has developed close friendship with, but no, that is not the case. He is not following the trails of those artists. 
"My goal is to pioneer music fronts that I personally think is hot, involving fellow musicians too. It would be great to make something absolutely mind-blowing," says BIGYUKI.
A scale too large to fit in a narrow frame. BIGYUKI lives up to his name as a truly BIG man.